Upcoming Events
Impact100 Fremantle Events
Site Visits
SITE VISIT #6 – FREMANTLE MIND INC.
FremantleMind Inc. is unique because it gives everyone living in Greater Fremantle (both those with and without mental illness) the opportunity to access free evidence-based community mental health and wellbeing services delivered by registered mental health providers.
Their goal is to improve the mental health, wellbeing, and resilience of the Greater Fremantle community.
8.00AM – 9.00AM, Tuesday 20th August 2019
3 Beach Street, Fremantle WA 6160
Click here to RSVP to Fremantle Mind Inc.'s Site Visit
SITE VISIT #7 – ST PATRICK'S COMMUNITY SUPPORT CENTRE
For more than 40 years, St Patrick's has worked to provide immediate and holistic care for the homeless, those at risk of being homeless and the disadvantaged in Fremantle and the wider south west metropolitan area of Perth.
In 2020, to address the need for affordable homes, St Pats wants to build some tiny houses – compact homes on wheels that are suitable for singles, couples or small families.
4.30PM – 5.30PM, Thursday 22nd August 2019
St Patrick's Community Support Centre, 12 Queen Victoria Street, Fremantle WA 6160
Click here to RSVP to St Patrick's Community Support Centre's Site Visit
SITE VISIT #8 – BLACK SWAN HEALTH
Established in 2014 as an independent not-for-profit company, with a mission to deliver health, mental health and disability services that achieve the best possible health and wellbeing outcomes for the community and for individuals who require care and support.
Black Swan Health delivers 19 tailored health, mental health, disability and wellbeing programs and services, including the iconic Freo Street Doctor.
6.00PM – 7.00PM, Tuesday 27th August 2019
Suites 105-108, First Floor, Wesley Central First Floor, Wesley Central, Fremantle WA 6160
Click below to RSVP to Black Swan Health's Site Visit
In order to attend the Site Visits and the Grant Assessment Meeting, you need to have either pledged your support or paid your donation to Impact100 Fremantle for 2019.
We'd love to see you there. If you are able to come to all or any of the Site Visits please RSVP by clicking on the links above.
Impact100 Fremantle Grant Assessment Meeting #2
Join us at the Grant Assessment Meeting to help narrow down the shortlisted 8x organisations to our Final 4 who will continue on to the Voting and Awards Night to pitch to donors for the major grant of $100,000.
When: 6.00PM – 8.30PM, Thursday 29th August 2019
Where: Fremantle Foundation Office, 92 Adelaide Street Fremantle WA 6160
Click here to RSVP to the Grant Assessment Meeting #2
Impact100 Fremantle Social Night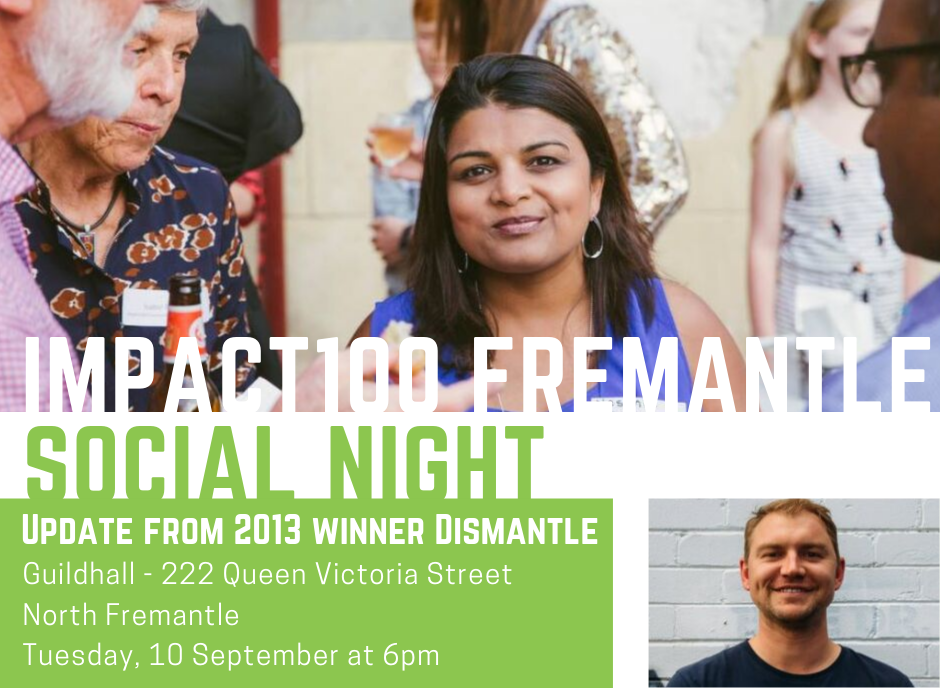 We would like to invite you to an Impact100 Social Night on Tuesday 10 September at the Guildhall, 222 Queen Victoria St, North Fremantle at 6pm.
This event is open to everyone and if you are a current or previous Impact100 Fremantle donor it's a great opportunity to bring along friends or family that would like to learn more about Impact100 Fremantle.
Our special guest for the night will be Pat Ryan from Dismantle, who will provide a unique "behind the scenes" update on their incredible work since winning Impact100 Fremantle in 2013.

We would love to see you there. If you are able to come, please RSVP.
Make your donation for 2019
Become an Impact100 Fremantle member and Donate Now.
Did you know you can now make 10x monthly instalments of $100 donations or choose to donate $1,000 in one go?
Alternatively, you can pledge your support to Impact100 Fremantle now and pay at a later date. Pledging to Impact100 Fremantle 2019 now helps us calculate our donations total and know how far we are from reaching our granting total.
If you would like to PLEDGE NOW for Impact100 Fremantle and PAY LATER please click on the button here.
If you would like to give to Impact100 Fremantle 2019 as part of a group or workplace please contact our Social Impact Manager, Hannah Fitch-Rabbitt, who can assist you to make this easy for each member of your group to donate.