Ngalla Maya breaking the cycle of recidivism
Five months out of the prison system and Wayne Ugle is off to start his first FIFO swing.
Wayne completed 4 weeks of training in Certificate III in Construction upon release as part of the Ngalla Maya reintegration program supporting individuals to make the changes necessary towards a better lifestyles for both themselves and their families.
Wayne's partner Tasha Kelly said of the experience for their family "without your program and what you are providing at Ngalla Maya we wouldn't know where we would be you are doing great things there changing the lives of many families along the way ….".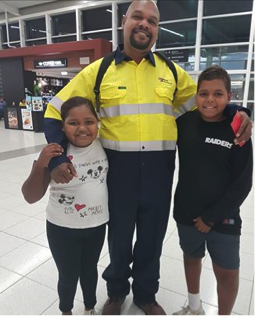 Winners of the 2017 Impact100 Fremantle grant are creating opportunities and options for ex-offenders helping break the cycle of recidivism and find employment.
To date Ngalla Maya have currently placed 70% Aboriginal ex-offenders whom have been referred to Ngalla Maya's reintegration program into employment and other training with employment outcomes.
Ngalla Maya believe that ex-offenders have rights to jobs, social support, health care and they are offering them training to maximise their job opportunities. These courses range from construction, civil construction, cleaning, accounting, and many more to choose from. Ngalla Maya then links the trainees to Rio Tinto, Skills Force, BHP Billiton, Pilbara Access and Ready Resources for employment opportunities.
Ngalla Maya continue to maintain the relationships with the companies while providing on job support to the trainee's to ensure employment success. Ngalla Maya's mentor's and mediators will be available at all times during the first 26 weeks of employment.
The Impact100 Fremantle grant has allowed Ngalla Maya to bring services to the Fremantle area, with a staff member working in the Fremantle Foundation office 2 days a week. Ngalla Maya services need to be present in the Fremantle community as well as over 20% of participants training comes from the Fremantle and surrounding areas.
Ngalla Maya is about to achieve a national record for their work from prison to community to employment.